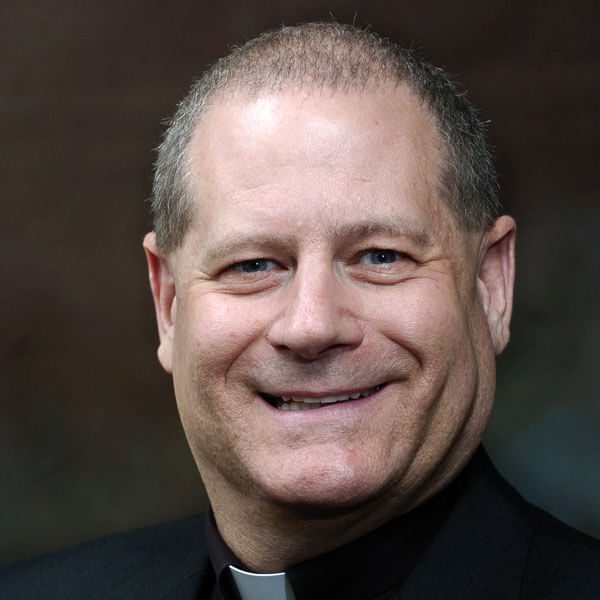 Fr. Michael was born in Petoskey, Michigan. St Mary-St Paul Parish, Big Rapids, is his home parish. He was awarded a Bachelor of Science degree in Health Science from George Washington University in 1993 while serving in the U.S. Navy. He served twenty-two years in the Navy as a Hospital Corpsman and retired with an honorable discharge in 1996. He completed his formation and studies at Mundelein Seminary, received a Master of Divinity degree, and was ordained to the priesthood in 2009. Following his ordination, Fr. Michael was appointed parochial vicar of St. Michael Parish in Remus. In 2010, he was appointed and installed as pastor at St. Michael. In 2013, Fr. Michael was installed as pastor at St Mary-St Paul. As of July 2021, Fr. Michael is the pastor of Our Lady of the Lake.
A Welcome Message from Our Pastor
Wherever you are on your journey of faith, I invite you to walk with our Lord and our Lady as a member of our parish community.
Jesus has given all of us a mission: "Go, therefore, and make disciples of all nations, baptizing them in the name of the Father, and of the Son, and of the Holy Spirit, teaching them to observe all that I have commanded you" (Matthew 28:19-20a). Under the patronage of our Lady and in union with all of Christ's disciples throughout time and space, parishioners at OLL strive to carry out this mission of making disciples. Our parish has five ministry departments designed to equip all parishioners to live Christ's mission:
Community Life: God is a perfect communion of three Divine Persons, and we are all created in God's image, so we all need community. At OLL, we see our local parish as our primary community within the universal Church. We seek meaningful connections with our fellow parishioners through guilds and social groups, parish events, communal prayer, and parish communications.
Discipleship: Our goal is to emulate the perfect discipleship of the Blessed Virgin Mary. We do this through a culture of lifelong learning that empowers parents, families, and individuals to live their call to holiness and intimacy with the Holy Trinity. Adults have opportunities for ongoing formation through the Lakeshore Academy for the New Evangelization (LANE), and we offer a variety of Discipleship Classes for children and youth to assist parents in teaching the Catholic faith and to prepare our young people to receive the sacraments.
Parish Care: Each of us has a joyful obligation to love our fellow parishioners, especially those on the margins. Through visitation ministry, our parish nursing program, recovery ministries, funerals, support groups, and more, the people of our parish care for each other's minds, bodies, and souls. Whether you are able to care for others or are currently in need of care yourself, there is a place for you in our compassionate community.
Mission: We are also called to love and serve our neighbors who are not members of our parish, particularly the poor and vulnerable. At OLL, we perform the corporal works of mercy through partnerships with local charitable organizations, including the St. Vincent de Paul Center, Holland Rescue Mission, and City on a Hill. We also have a relationship with our sister parish in Haiti, and parishioners participate in diocesan programs such as prison and jail ministry.
Worship: At OLL, we endeavor to celebrate the liturgy with reverence, faithfulness, beauty, and joy. Many parishioners serve as liturgical ministers, sing in our choir, or play musical instruments during the liturgy, and we are all called to actively participate in the holy sacrifice of the Mass. We recognize that the Eucharist is the source of our communion with Christ and with each other, as well as the place from which we are sent on mission: "Go and announce the Gospel of the Lord!"
Corpus Christi Catholic School is also an important part of our parish's mission. Our parish school authentically educates children in and through the Catholic faith in an environment centered on the Word of God, the sacraments, and the teachings of the Church. Students discover truth, goodness, and beauty in all fields of study in an academically rigorous and culturally diverse learning community. Whether you have school-age children or can support our school with your time, talent, and treasure, please consider getting involved!
When he gave us our mission, Jesus also made his people a promise: "And behold, I am with you always, until the end of the age" (Matthew 28:20b). As we come together at our parish and then go out into the world, we know that our Lord is always with us in the members of his Body, in the poor, in the sacraments, and most especially in the Eucharist. Through Christ's presence and our Lady's intercession, we receive the grace to grow in holiness, to seek the lost, and to build God's kingdom.
Once again, I offer a warm welcome to all who worship at our parish, and I invite you to join us on mission. I encourage all Catholics, all those who wish to return to the Catholic faith, and all those who are curious about Christ and his Church to come and see the goodness of the Lord!
In Christ's peace,
Fr. Michael Burt
frmichael@oll.org
616-399-1062, ext. 106