Support Our Sister Parish in Haiti!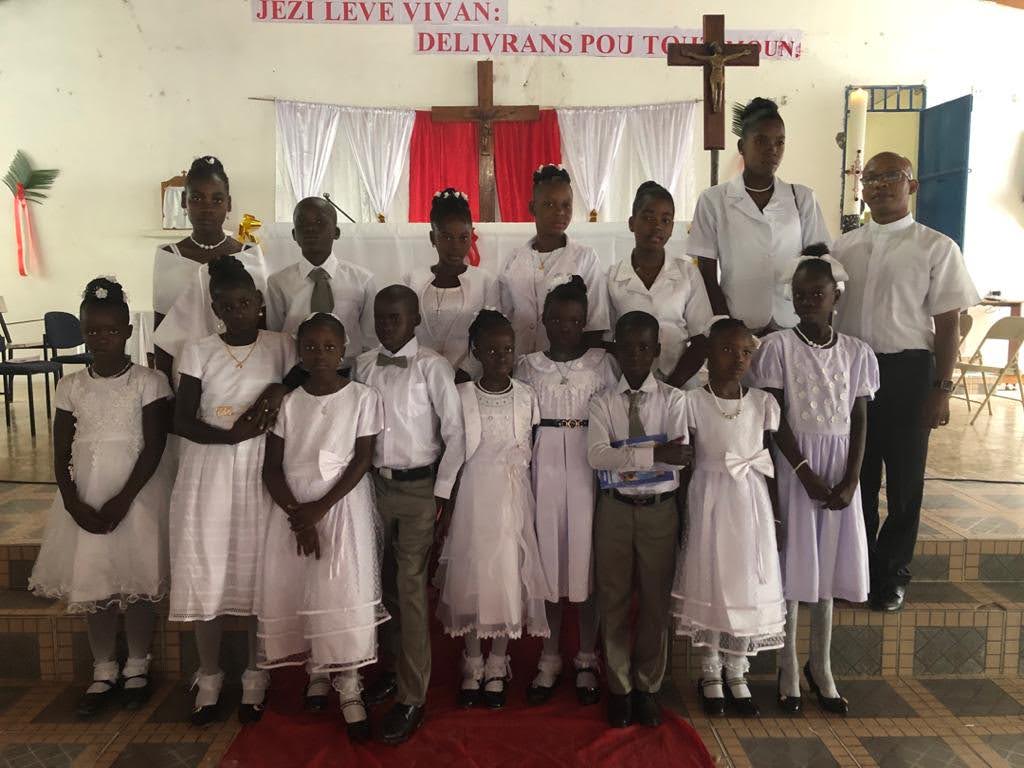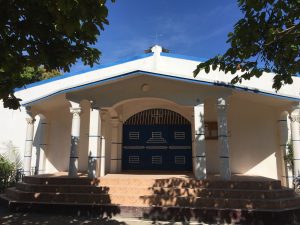 The support of our sister parish in Haiti, Sts. Anne and Joachim, will be our Mission Department focus during the month of September. In the narthex, please check out the display highlighting the various projects we have supported over the years in Haiti. There will also be a mango tree. Please consider taking a mango fruit with the attached envelope containing some of the existing projects for Haiti that you may be willing to support.
Fr. Effener, pastor of our sister parish, will be with us for Sunday Masses on September 23–24 and September 30–October 1. The Knights of Columbus will host a pancake breakfast for our sister parish on Sunday, October 1.
Thank You for Your Support!
This is an opportunity for me to speak to you about the importance of the bond that unites our parish of Sts. Anne & Joachim de Labranle to our sister parish in Michigan, Our Lady of the Lake. This relationship between these two parishes is a blessed relationship.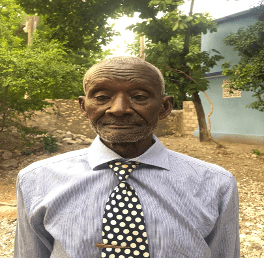 I must thank each of the parishioners of our sister parish for their generosity and support. Your concern for the welfare of the children and the development of the parish is greatly appreciated. I only praise God as I contemplate the great accomplishments you have helped us make. These great works have been carried out thanks to your financial aid. Without your generosity, the people of the Labranle–Dubédou crossroads chapel would not have had this beautiful church to adore and praise the Lord. The parish would not have had one of the most beautiful presbyteries in the diocese if you had not contributed to build a new one. The students would not have had a space to do their physiological needs if you had not agreed to make sacrifices to build toilets to serve the students and parishioners during Sunday Masses.
Thanks to you, people in the community will be able to drink treated and purified water. The food for students and food after Sunday Mass, as well as the salaries of the teachers, are charitable actions that you have done in our favor. All these achievements help us to live in dignity and bring us joy and happiness. "What you have done to one of these least of my brothers, you have done to me" (Matthew 25.40).
Once again, thank you to each of you. God bless you!
— Michel Ariscat, a parishioner
Thank You for Your Support of Christ the King School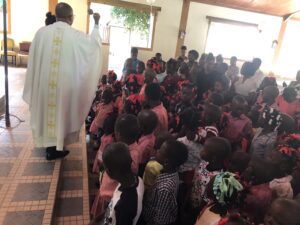 Christ Roi school, all the staff of the school, and the entire community of the parish of Sts. Anne and Saint Joachim de Labranle, I send you my most respectful greetings.
Unfortunately, the insecurity situation in Haiti prevents you from entering the country so that we can meet and talk to each other. But I take this opportunity to thank you from the bottom of my heart for your financial support, which enabled the manager to pay the teachers.
School fees are minimal, but despite this, many of parents cannot even pay the small fees given the difficulties they face. If it was not for your economic support, the school would have great difficulty in paying the teachers. In this case, you have contributed a great deal to the education of adolescents and young people in the parish community of Labranle.
Words fail me to be able to express the depth of my exaltation. Thank you very much for your support.
— Pierre-Fils Charles
Food Program for Students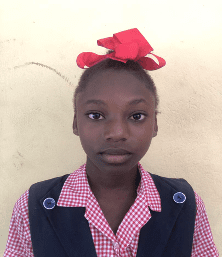 I greet each of you. I am a student of Christ the King School in Labranle. I would like to tell you about the importance of the food you have provided to us students at this school through the Head, Reverend Father Effener Renelique.
Food is very important to us students. Food helps us to learn better in class and therefore to give a better academic performance. If there is no food, we fall asleep in class and we don't hear anything the teacher has said in the classroom. It often happens that we go to school without eating anything. After class, when we arrive home, very often we find nothing because our parents are unable to give us food every day. So it is with the food given at school that very often we spend the whole day and we return to school the next day with the hope of finding a meal. Without food at school, we wouldn't know what to do to study or do our homework.
On behalf of all the students, I would like us to continue with food at school. Thank you to all those who contribute to give us food at school. Thanks a lot.
— Woodjinika Jean, a student
Food After Sunday Masses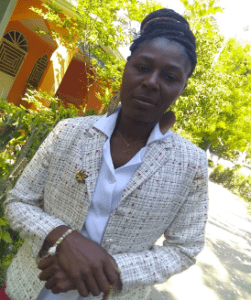 I greet each of you from our sister parish in Michigan. I thank God for putting you on our path because without you, we would not have been able to hold and realize all these projects.
On behalf of the parishioners of Sts. Anne and Joachim de Labranle, I would like to thank you for your financial support, your generosity and your prayers for the realization of certain projects, especially the food after Sunday Mass. The meal consists of rice, peas, chicken or sardines or vegetables, and juice. The program is of capital importance for the parishioners. It allows them to find a meal after the Masses of the first and third Sunday of each month. It's a great relief for the parishioners who have to walk two or three hours to get home. In Haiti, food is not accessible to everyone. Only a minority with purchasing power can feed themselves daily. Many families can spend two or three days without taking food. Finding enough to eat is the biggest struggle for the majority of Haitian families. When people are in church praying, their minds are elsewhere, thinking about what they are going to eat today. Only their bodies are in the church because often they are thinking about food for their children. This program gives them an assurance that they will find a meal twice a month after Sunday Mass. This program brought much more fervor and joy to the parishioners and gave another image to the parish.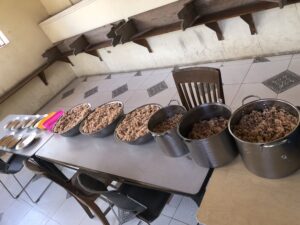 Once again, thank you to all the donors who have contributed to this work of humanity. All the parishioners of Sts. Anne and Joachim de Labranle will continue to pray for each of you so that God continues to bless and protect you.
— Marie Brunie Datilus, a parishioner
A History of Our Partnership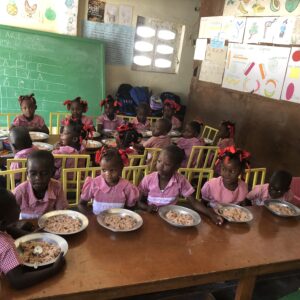 The partnership with our sister parish in Labrande, Haiti, began after Fr. Phil Nguyen had seen how local and national outreaches from OLL had been a blessing to our parish. Being from a vibrant faith community in Vietnam, Fr. Phil wanted the parishioners of Our Lady of the Lake to have an opportunity to walk alongside our brothers and sisters in the universal church outside our country. He specifically requested that this be with a parish in Haiti.
The committee originally visited Haiti and began to learn about parish partnering and methodologies that respect the dignity of the communities involved. The committee learned about asset based community development and how to avoid, as best we can, hurting local communities while trying to help them. This was a study that led to a significant change in thought that has guided the committee since those first days.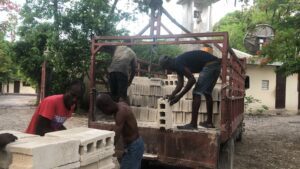 The Haiti committee at OLL seeks to strengthen the assets and gifts that already exist within the community in Haiti as a way forward instead of simply trying to fill in for the lack that never seems to end. This has led us to support projects that are run and administered by the local community after collaboration with the committee. Under Fr. Charlie Hall and Fr. Mike Cilibraise, this led to building a chapel, initiating a food program for the approximately 300 students of the parish school, supporting teachers salaries, establishing a computer lab, and building a multipurpose rectory.
Under Fr. Michael Burt's guidance, we have established a Sunday lunch program for parishioners who may walk for hours to get to Sunday Mass at Sts. Anne and Joachim. All of this and more has been made possible through the support and sacrifices on the part of parishioners at Our Lady of the Lake. Thank you!
The Situation in Haiti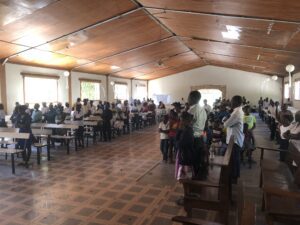 Amidst longstanding civil unrest that has reached even the wealthier areas in Haiti, the world has lost sight of the hunger issue that plagues this nation. Estimates show nearly half of the population, 4.9 million people, regularly go hungry. Inflation has risen to 49.3%. Since January, 2,400 people have been killed by guns alone and there have been 1,014 kidnappings, according to the United Nations. Please lift up our Haitian brothers and sisters in prayer, that our Lady, Queen of Peace, will intervene and bring peace to their nation.