Prayer Garden Improvements, the Eucharist, Sacred Spaces, and Altars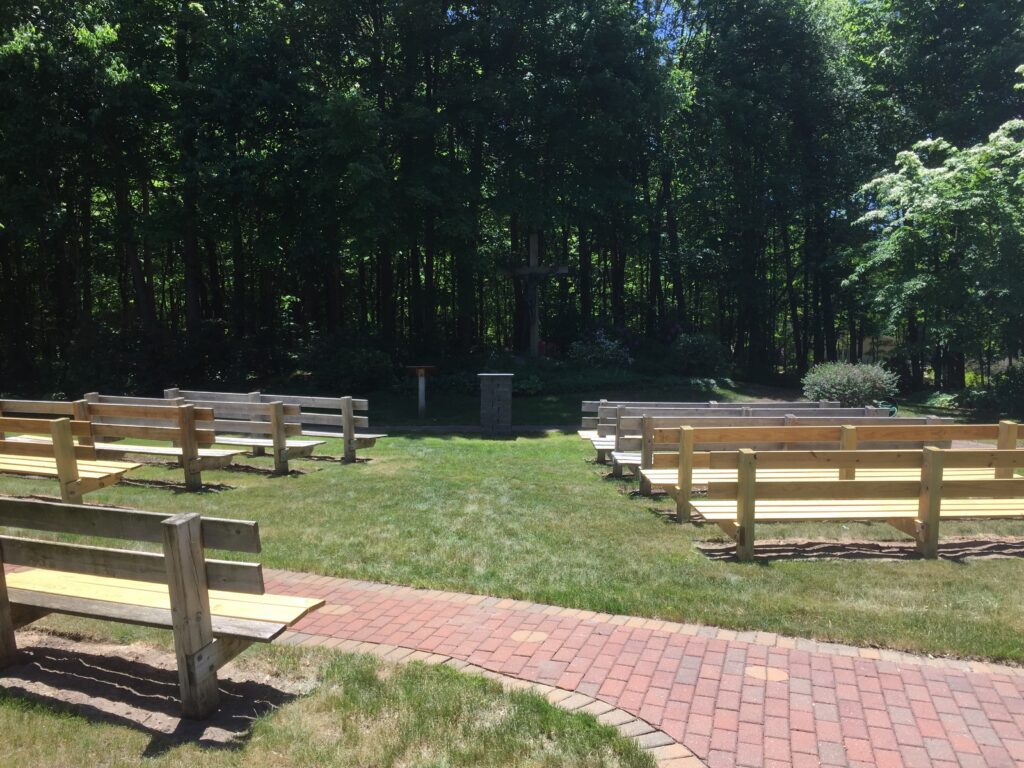 OLL parishioner Dylan Henderson has completed an Eagle Scout Project that greatly enhanced our prayer garden. Dylan planned, raised funds, organized volunteers, and completed the work to make this project possible. His hard work added three new benches, relocated two benches so they are more accessible, and replaced several warped boards on existing benches. Many thanks to Dylan and everyone who helped with his project!
We also have a new, centrally-located table for Fr. Michael to use when celebrating Mass in the prayer garden. Thank you to Bill Rowden with Manthei Supply in Charlevoix for the granite and slate, and to Autumn Ridge Stone and Landscape Supply in Holland for foundation materials. Also, thank you to the volunteers who helped with installation. We are working to complete two other pieces for the prayer garden to complement the center table.
The Eucharist is the sacrifice of the New Covenant, since it makes present Christ's sacrifice on the Cross. Because it is a sacrifice, it is celebrated on an altar. Then why do we have a table in the prayer garden rather than an altar?
According to the General Instruction of the Roman Missal, "The celebration of the Eucharist in a sacred place is to be carried out on an altar; but outside a sacred place, it may be carried out on a suitable table" (GIRM 297). Our prayer garden is a beautiful place for private prayer and even Mass, but it is not a dedicated sacred space like our church and chapel. Consequently, the prayer garden does not have a dedicated altar, and there are no saints' relics in the table like those typically contained within altars. Even so, the table has been constructed in a beautiful and dignified manner befitting the celebration of the Eucharist.