Holy Week and Easter Time at OLL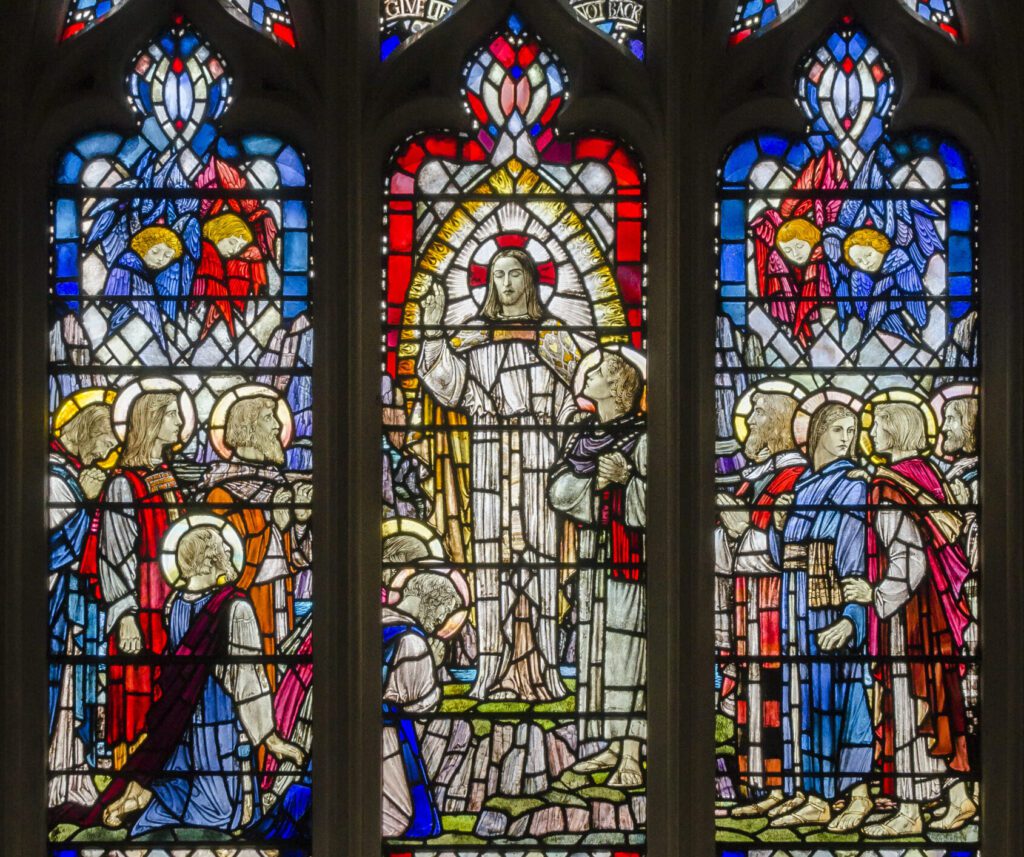 I Am With You Always
"Go, therefore, and make disciples of all nations, baptizing them in the name of the Father, and of the Son, and of the Holy Spirit, teaching them to observe all that I have commanded you. And behold, I am with you always, until the end of the age." — Matthew 28:18-20
The Risen Lord united himself with us even more closely when he ascended into heaven and sent the Holy Spirit. This Easter, the Church is pointing us to three places where we can encounter the Lord and make disciples:
He Is in Your Heart: The Lord is present within you by the indwelling of the Holy Spirit; encounter him in prayer and the scriptures.
He Is in the Church: The Lord is present in the Body of Christ; encounter him in the sacraments, especially the Eucharist, and the people of God.
He Is in Your Neighbor: The Lord is present in the poor, the suffering, and the lost; encounter him through evangelization and the works of mercy.
Together, let us walk in the presence of the Risen Lord and carry out the mission he gave us.
Free Resources and Weekly Emails
Go to lanecatholic.org/course/lent-easter-2023 to browse an extensive library of seasonal resources and to sign up to receive a weekly call to prayer and action. You'll get an email every week through Pentecost. If you are already on the LANE or parish email list, you will automatically receive these emails.
Holy Week and Easter Time Events at OLL
Palm Sunday (April 1–2): Regular Mass schedule
Tuesday of Holy Week (April 4): Confession at 12:30 p.m.
Wednesday of Holy Week (April 5): Confession at 6 p.m.
Holy Thursday (April 6): Confession at 2 p.m., Mass of the Lord's Supper at 7 p.m. followed by Adoration until midnight
Good Friday (April 7): Day of fasting and abstinence, Celebration of the Lord's Passion at 3 p.m., Divine Mercy Novena begins
Holy Saturday (April 8): Day of fasting and abstinence, Blessing of the Easter Food at 10 a.m., Easter Vigil Mass at 9 p.m. followed by a reception
Easter Sunday (April 9): Masses at 9 and 11 a.m., Easter Egg Hunt after the 11 a.m. Mass (donate candy)
Divine Mercy Sunday (April 15–16): Regular Mass schedule, Chaplet of Divine Mercy before Masses
Gateway Mission Fill-a-Truck Event (April 14–24): Donate items for the thrift store.
Gateway Mission Women's Gifts (April 29–May 7): Bless women at the mission's shelter.
May Crowning (May 6–7): We will honor our Lady by crowning her statue during Masses. First Communion will take place at the 5 p.m. Mass on May 6.
Pentecost Novena (May 22–28): Pray for the coming of the Holy Spirit following the Ascension.
Stations of the Resurrection (May 18): Travel the Via Lucis—the Way of Light—with this Easter Time devotion modeled on the Stations of the Cross. Prayers and readings focusing on the biblical events from Easter Sunday to Pentecost will begin at 7 p.m. in the chapel during regularly scheduled Eucharistic Adoration. All ages are welcome.