Encounter Nights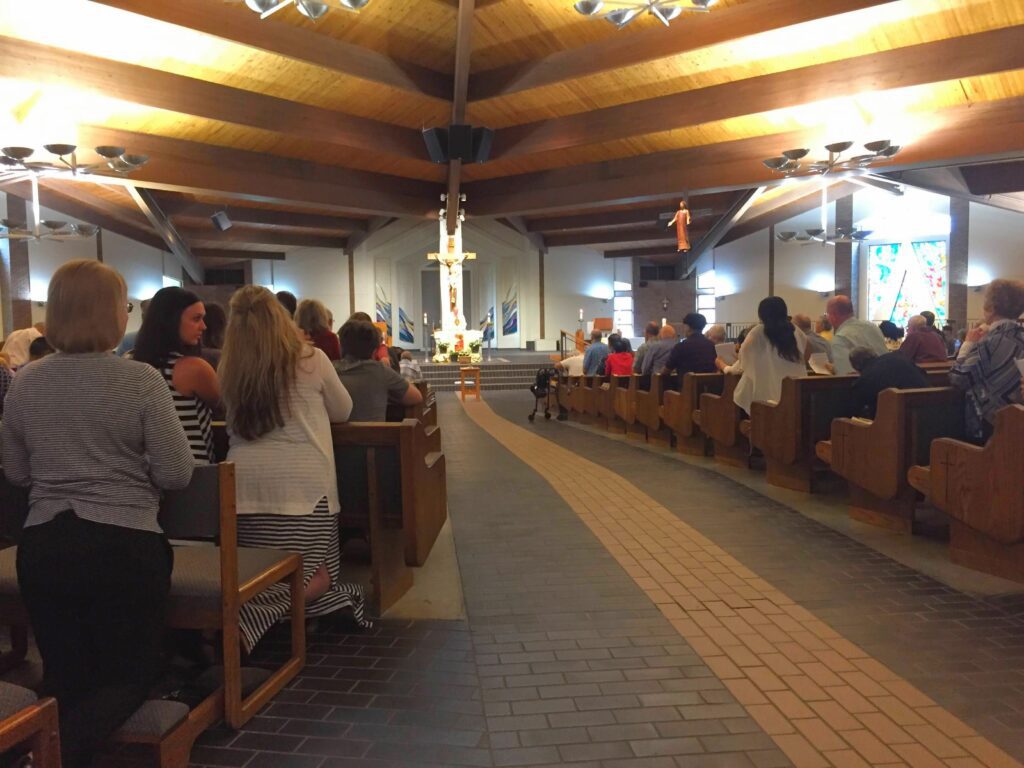 Renew Your Relationship with Our Eucharistic Lord and His People
The National Eucharistic Revival is an opportunity for all Catholics to seek a deeper connection with Jesus by encountering him anew in the Eucharist. No matter where you are in your faith, you can draw closer to Christ and become more united with the members of his Body as well. That's our vision for Encounter Nights, which will take place throughout the 2023–2024 year at Our Lady of the Lake. Parishioners and their guests of all ages and stages are invited—we want everyone there, especially at the Encounter Night with the choir! Each night will have two parts: a holy hour and a social hour. See below for details on each event taking place this fall. Stay tuned for information on winter and spring events.
Encounter Night with the Choir
Wednesday, October 11, 6–8 p.m.
This event will draw together our entire parish for a night of worship, fellowship, and renewal. We will gather in the hall for a social hour before the main event. Light refreshments and Eucharist-themed activities for children will be provided.
The holy hour will begin at 7 p.m. in the main church. Fr. Michael will expose the Blessed Sacrament on the altar, lead prayers, and preach a homily. The OLL Liturgy Choir, under the direction of Audrey Gorman, will lead us in song and sing musical pieces in praise of our Eucharistic Lord. The holy hour will include periods of sacred silence and conclude with Benediction (a blessing with the Eucharist). Confession will be available during and after the holy hour. Parents may drop off small children at the Kids' Corner if they choose.
More Opportunities for Encounter
Advent Retreat: Sunday, December 3, 12–3 p.m.
Winter and Spring Encounter Nights: Dates TBA
Family Encounter Nights
Thursday, September 14, 6–8 p.m.
Thursday, November 9, 6–8 p.m.
Family Encounter Nights will draw together our entire parish family—young children and mature members, Adoration beginners and Adoration veterans—so we can all renew our relationship with our Eucharistic Lord and each other. These events are a great gateway to both Eucharistic Adoration and the Liturgy of the Hours. On November 9, the Feast of the Dedication of the Lateran Basilica in Rome, we will dig into the relationship between the Eucharist and the Church.
We will begin each Family Encounter Night with an social hour in the hall at 6 p.m. A light meal will be provided. Please bring a dish or snack to share if you are able. There will be a children's craft and board games for adults and children. We will then have a holy hour with the Blessed Sacrament in the chapel from 7–8 p.m. Prayerful children's activities will be provided, so the atmosphere will be reverent but not silent. Guided devotions for adults will also be provided, and we will conclude with Evening Prayer. Those who would like to linger for additional Adoration or socializing may do so.
If possible, please RSVP by email to Cory Lakatos, Director of Community Life, by November 6. However, no one will be turned away from attending. We hope to see you there!