Advent: Prepare the Way of the Lord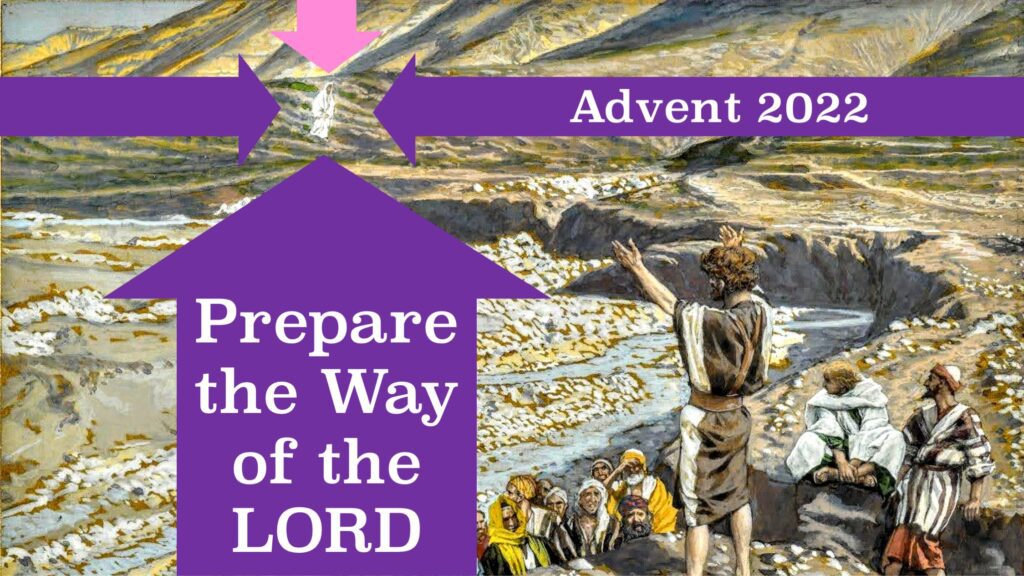 "John the Baptist appeared, preaching in the desert of Judea and saying, 'Repent, for the kingdom of heaven is at hand!' It was of him that the prophet Isaiah had spoken when he said: A voice of one crying out in the desert, prepare the way of the LORD, make straight his paths." — Matthew 3:1-3
We make a lot of preparations to celebrate Christmas, but are we preparing the way of the LORD in our hearts, homes, and neighborhoods? During Advent, Christ is calling us to get ready for his kingdom in three ways:
Prepare for the Second Coming: Jesus will one day return to judge the world and establish his everlasting kingdom. Are you ready?
Prepare for Holy Communion: Jesus comes to be with us in every Mass, especially when we receive the Eucharist. Are you ready?
Prepare for the Season of Christmas: Jesus was adored from birth, and we will join this chorus of praise during the feasts of Christmas. Are you ready?
Let us heed St. John the Baptist's Advent call to repent and get ready for the kingdom of heaven!
LANE Resources
You can start preparing the way of the LORD by going to lanecatholic.org/course/advent-2022 and clicking the "Register for free" button. Create a LANE account if you don't already have one, browse Advent resources, and choose ones to help you and your family get ready through prayer, fasting, and almsgiving.
Eucharistic Adoration
Adoration of the Eucharist helps us prepare to receive Holy Communion during Mass and extends our worship beyond the Mass. Drop by the chapel during regular hours or come on Thursdays and first Fridays when the Blessed Sacrament is exposed for Adoration.
There is a diocese-wide Eucharistic Revival Holy Hour on Tuesday, December 13, at 7 p.m. We will celebrate this holy hour in the main church, and everyone is encouraged to participate.
Adoration will end early at 6 p.m. on December 8, the Solemnity of the Immaculate Conception. Adoration and Confession are cancelled on December 15 because OLL is hosting the Corpus Christi Catholic School Christmas Concert.
Extra Confession Times
Confession prepares us for Communion. Fr. Michael is making extra time to celebrate the Sacrament of Reconciliation in the week before Christmas:
Tuesday, December 20, after the noon Mass
Wednesday, December 21, at noon
Thursday, December 22, at 6 p.m.
Friday, December 23, after the 9 a.m. Mass
Saturday, December 24, at 9 a.m.
Fasting and Penance
Like Lent, Advent is a season of sober, prayerful preparation for a great feast. Fasting and other forms of penance can greatly aid us as we repent of our sins and humble ourselves before God. Think about ways you can restrain your celebrations prior to Christmas Eve and offer your sacrifices as prayer.
Ways to Serve and Give
Gifts for home-based parishioners have been collected. They now need to get to their recipients. Please contact Pat Whitaker, Parish Nurse, to donate a couple hours of your time to drop off gifts.
The St. Vincent de Paul Center could use your help to distribute the Christmas Food Baskets. Please contact Ann Fletcher, Center Manager, at afletcher@stfrancisholland.org or 616-394-0676 if you are interested in helping.
Salvation Army Bell Ringing: One of our parishioners, Paul Andary, will be recruiting volunteers bell ringers for the Salvation Army after Masses on December 3-4 and December 10-11. Stop by and sign up to ring the bell on December 17!
Giving Tree for Children's Advocacy Center: This collection will take place at our parish from December 1-18.
Volunteers are needed to drop off donations to the Children's Advocacy Center location off 120th Avenue the week of December 19. Anyone willing to take the Giving Tree gifts to the center should call or email Alyssa Gaerte, Mission Coordinator.
Respite for Caregivers: Friendly visitors are needed to sit with someone while their caregiver is running errands or getting a haircut. Please contact Pat Whitaker, Parish Nurse.
Volunteer at OLL or one of our mission partners, or make a financial contribution.
Share the hope we have in Christ with others during this holy season!