A Message on Parish Finances from Fr. Michael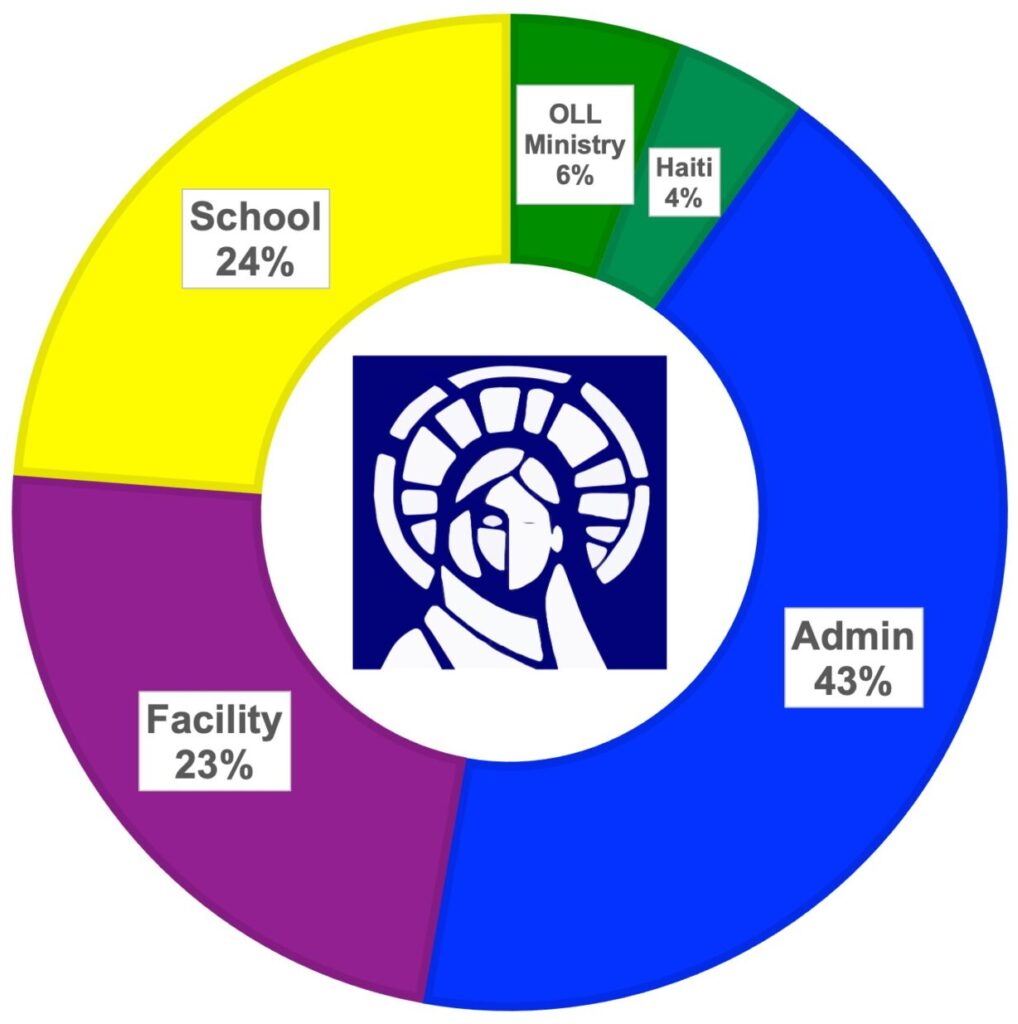 Brothers and Sisters in Christ,
I am truly grateful for your financial support of Our Lady of the Lake. I know that giving to our parish is a sacrifice in this time of high prices and tight budgets. Without your contributions, our parish could not do Christ's work of evangelization, worship, and service in our community. Since we all have a responsibility to help provide for the needs of our parish, each according to his or her ability, I want all parishioners to have a good understanding of how our parish finances work. That's why I'm sharing this update on where OLL stands financially and what our needs are.
Our parish's bills have been going up, just like your household bills. In addition, OLL's income has been lower than what we budgeted. Our parish staff does an exemplary job of living within our means, and we have kept our expenses under budget, too. However, much of our budget is necessary and within guidelines provided by our diocese and the Michigan Catholic Conference. We are not on track to meet our offertory goal by the end of the current fiscal year on June 30.
Can you help OLL close the offertory gap? On the other side of this letter, you will find more information on how OLL has spent offertory money in 2022-2023, including year-to-date numbers as of the end of the third quarter. I encourage you to take a look and then to pray about what you can do to help our parish finish strong. Thank you for your commitment to the Lord's work here at Our Lady of the Lake!
How Do We Spend Our Money?
A Look Under the Hood of Parish Finances
OLL's offertory goes to support our parish and local community. We also collect specially designated offerings, including a collection for our sister parish in Haiti, as well as outside collections that are not included in our parish budget (e.g. the Catholic Services Appeal for our diocese). Our parish budget is divided into four categories. All numbers listed here are approximate. OLL's expenses are not evenly divided throughout the year. This update represents year-to-date numbers at the end of the third quarter.
Ministry: This includes Masses, classes, events, and all of the programs organized by OLL's five ministry departments, plus funds allocated to our sister parish in Haiti.
Administration: This covers payroll and benefits (most of our employees are part-time) and other operational costs, including supplies and insurance.
Facility: Our parish must consistently spend money to maintain our 25-acre property and our aging facilities.
School: This includes tuition and operational subsidies to Corpus Christi Catholic School, capital expenditures to maintain our school's facilities, and tuition support for OLL students at other Catholic schools. (School capital expenses vary in size from year to year. They were larger than usual this year.)