40 Days for Life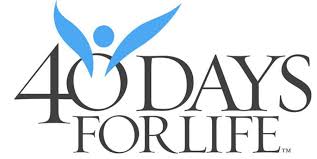 Are you willing to pray for one hour to end abortion? 40 Days for Life is a pro-life effort that consists of forty days of praying, fasting, and holding a peaceful vigil in front of an abortion facility. The fall campaign will take place from September 22 through October 31. This will be the twenty-fourth campaign in Grand Rapids, and it will take place in front of Heritage Clinic for Women at 320 East Fulton Street. This is the only free-standing surgical abortion facility still operating in our community.
Dozens of area churches have adopted a day of prayer. Our Lady of the Lake has adopted Friday, October 22, to pray at the peaceful vigil. At least two individuals are needed for each hour of the vigil from 7 a.m. to 7 p.m. Sign up at the welcome desk or by filling out the form below.
For more information, contact Cory Lakatos or visit www.40daysforlife.com/GrandRapids.
Sign Up for 40 Days for Life